How to Set Up Your Menagerie!
Edit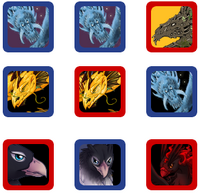 Want those pictures to not be of your critter's butts? Here's what you need to do.
Click a pet
Click the camera icon
Move the box to show the part of your pet of your choice
Hit "Take Snapshot"
Go back to menagerie and refresh to see results!
If you like the results and want others to see it, too, click "account" then the "use thumbnails" button. Now everyone will see the colored boxes, too!
Studio Settings and what they doEdit
Border Color: This creates a colored ring around your picture.
Border Radius: This causes the corners to be curved. For a round border, use a high radius.
Border Thickness: How thick the band of color around the picture is. For no colored border, set the border thickness to 0.
Background Color: This colors the space behind your critter.
Square Size: This is how big your pet's image without border will be and can be between 25 - 200 pixels in size.
Need a color list? Go here for an amazing list of colors.
Want to fill things in quickly? Try using a form filler. InFormEnter is great on firefox.
Hold your mouse over a pet image/button to see what it does.
Try color-coding your menagerie with different borders and backgrounds.
Taking pictures of different body parts is also a good way to set aside groups.
Community content is available under
CC-BY-SA
unless otherwise noted.